We're transforming, evolving and changing
It's true, we're 100 years old, but we're still transforming, evolving and growing. Our culture, the Deluxe Way, helps move us forward and realize our goals as we help small businesses and financial institutions realize their potential.
Ideas welcome
We can only grow and innovate if our employees share their ideas to continuously improve, streamline and expand our offerings. At Deluxe, we know that your success is tied to ours. That's why Deluxe believes in welcoming ideas from everyone on our team. We encourage employees to take the initiative, and we recognize achievement and celebrate success. Simply put, Deluxe is a place where you can make your mark.
A spirit of giving
Since 1952, Deluxe Corporation Foundation has contributed over $90 million to local organizations and charitable giving programs. Deluxe employees are also very involved in their communities, working to make a positive difference. From the local plant to the executive leadership, volunteer efforts are encouraged, recognized, and celebrated at every level.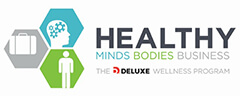 HEALTHY Minds, Bodies, Business
Deluxe invites its employees to journey on the path toward wellness, offering a series of resources and activities that encourage healthy living and inspire a culture of wellbeing in the workplace. Through challenges related to healthy eating, physical activity, and mindfulness and a compliment of preventative health benefits, our team stays active, relaxed and refreshed. Investing in your personal wellness leads to a better you, and a better Deluxe.